*This post may contain affiliate links. As an Amazon Associate we earn from qualifying purchases.
Trout has its enthusiasts and muskies are legendary for a reason, but bass just might be American's most beloved sport fish. If you're an angler, there isn't much that's more exciting than standing on the bow of a bass-fishing boat on a crisp spring morning and seeing a monster tail dancing as you play him out. The beauty of bass fishing is that you don't need a $1,000 fly rod or even a boat to do it. Just an inexpensive rod, a decent net, and a handful of bass fishing lures and you're ready to go.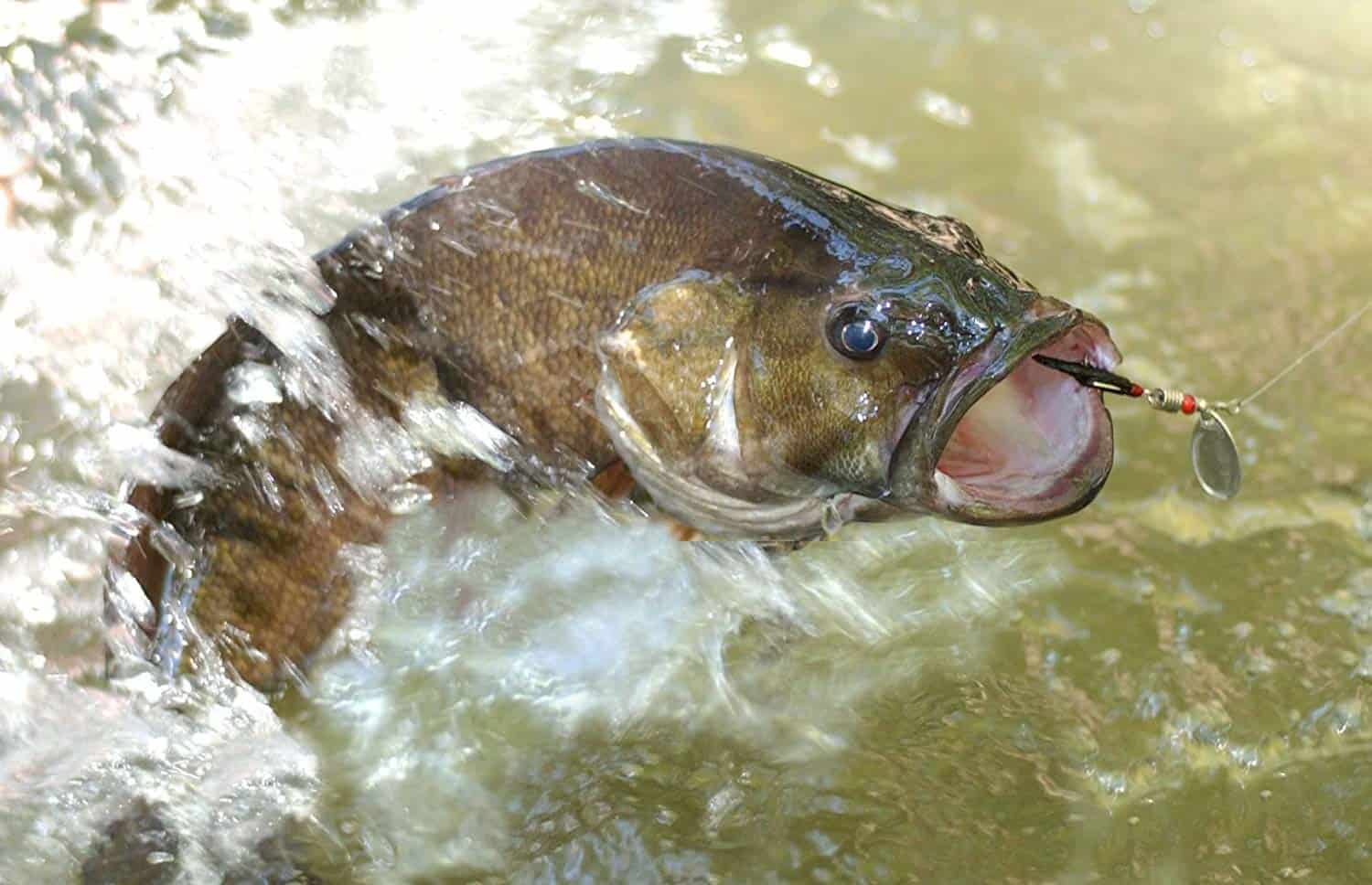 Image from Amazon
As simple and thrilling as bass fishing can be, the huge number of bass fishing lures on the market can make things seem a bit confusing. These days, it's slightly more complicated than just a flicker snell hook and $2 worth of night crawlers. But, with names like crankbait, spinnerbait, jigs, and spoons, how can a newbie even know where to begin? In this article, we'll break down ten of the top bass fishing lures on the market today and give you a head start on your prep for next bass season.
Whether you're a semi-pro bass hunter with competition earnings in the bank or a youngster just setting up your first bass rig, it's critical that you've got a feel for the best bass fishing lures out there. The market changes fast, and there are always new toys available; you'll want to make sure you've got the latest and greatest when you hit the bass waters with your fishing buddies. If you're ready to step up your bass game this season and you need some new bass fishing lures to do it, then, by all means, read on; we'll get you up to speed.
[amazon box= "B004MP6NWI,B00NAXKIVK,B00B9W6RZK,B00B5QBGY2,B01LWTYFHL,B01FZS3BPC,B0788972GX,B007RUQ2PI,B009BQS178,B018RQVM28," template="table"]
Product FAQ
1. What Are the Different Types of Bass Fishing Lures?
As the old saying goes, "there are many ways to skin a cat." Now, we don't know much about skinning cats per se, but we do know there are many lures out there that can catch big bass. Here are some of the most common types of bass lures you'll see in any bait shop:
Crankbaits
Crankbaits are lures that are able to dive quickly below the surface and then stay deep in the water. This is usually due to a sleek shape and added weight.
Topwaters
Topwaters are lures that are usually fished on the surface and don't sink as readily due to a more buoyant construction. There are some sub-surface topwater lures, but they are generally still fished closer to the water surface.
Spinnerbaits
Spinnerbaits are bass fishing lures that usually have a large metal blade attached to a hooked lure with a metal wire. The blade spins during the lure's retrieve mimicking the motion of a natural baitfish.
Jigs
Jigs are lures that often have a lead-weighted head and a soft plastic body. This body is usually made of colored rubber to mimic a baitfish and has a hook attached in the midsection.
Jerkbaits
Jerkbaits are bass fishing lures that are essentially a type of crankbait. These lures have a slightly smaller diving lip and are meant to be fished slower and with more rod tip action to allow greater suspension during slow retrieves.
Swimbaits
Swimbaits are lures that look similar to a crankbait or a jerkbait, but they're often hinged in the midsection. This allows a swimbait lure to move with the water, resembling the natural swimming action of a baitfish. 
Spoons
Spoons are usually very simple bass fishing lures that are made with a piece of metal shaped like the body of a baitfish. They are often curved into a concave shape resembling a kitchen spoon. The reflection of a spoon lure can attract bass from long distances.
Soft Plastics
Soft plastics are fishing lures that often resemble worms, leaches, or other terrestrial baits to attract bass. These come in a wide range of colors, lengths, thicknesses, and scents.
2. Can Bass Lures Work for Other Types of Fish?
Though bass fishing lures are often optimized in size, weight, and color to target large and smallmouth bass, they can be effective for other fish as well. Other species that may be attracted to bass fishing lures include pike, lake trout, perch, pickerel, and muskies.
3. What Should You Look for in a Bass Lure?
When shopping for bass fishing lures, the most important thing to do is have a nice mix of lures in different types, sizes, colors, and weights. Don't worry too much about buying the most expensive bass fishing lures on the market, as fish may surprise you with the lures they'll take when they're hungry. Look for a mix of some dark colored lures and some brightly colored ones, too. Try a few surface lures, some for deep water, and some specialty lures to try when the old standbys aren't working out.
4. Do Bass Actually Know the Difference Between Lures?
The short answer to this question is no. Bass will have no idea whether you are throwing a bass fishing lure at them or a tube of chapstick. What's important to remember, however, is that today's bass fishing lures have been designed through generations of fishing experience. These lures are optimized to catch the attention of large bass, and they do it well. So, while a bass may not consciously prefer bass fishing lures over some other form of bait, they are made specifically to appeal to lunker bass.
5. Can You Fish Bass Lures with Any Rod and Reel?
Bass fishing lures are usually compatible with both spincasting and baitcasting rods. Some bass fishing lures are heavy compared with other fishing lures, so be sure that you're using a rod, reel, and line that are strong enough to support your lures. The largest bass lures are often reserved for baitcasting rigs, but a burly spincasting setup should also do the trick.
How We Reviewed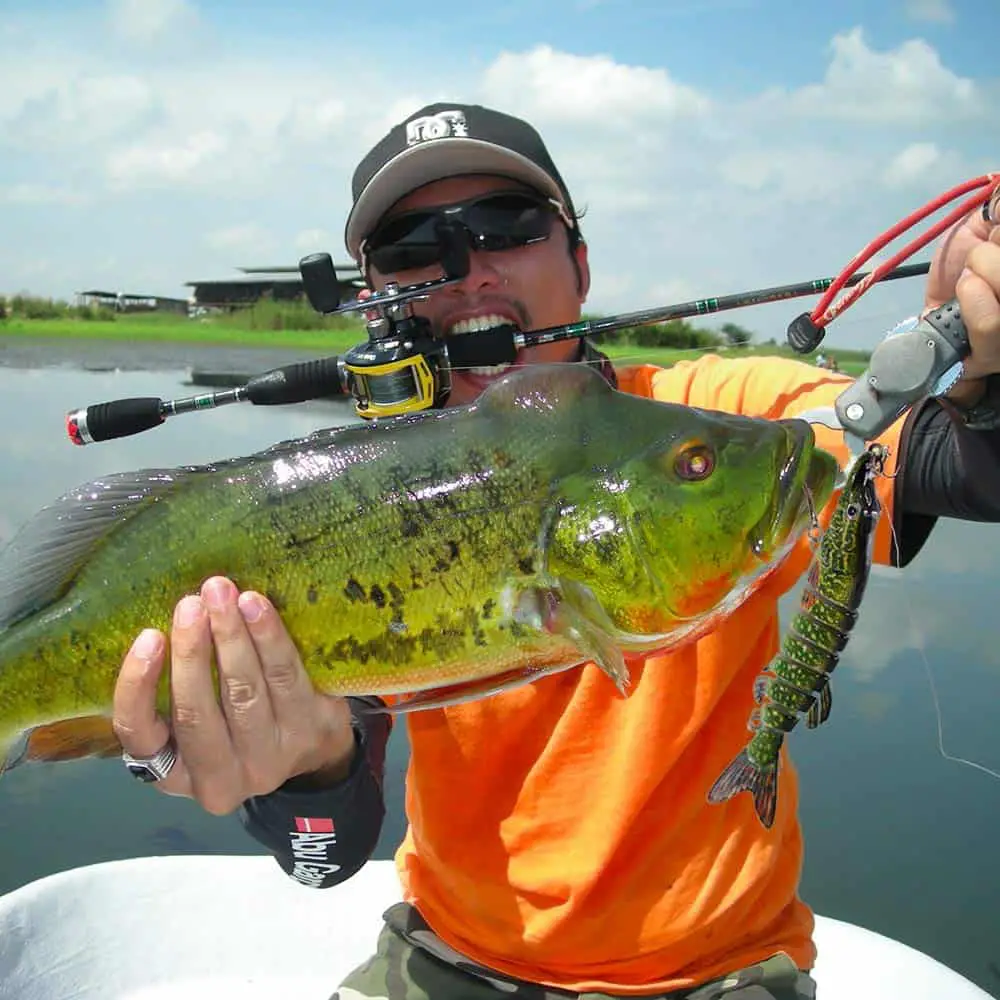 Image from Amazon
For this review, we selected a range of bass fishing lures based to represent the best of what's out there. We broke down the features of each lure as well as the price, advantages over other lures, and availability. We also chose one overall top pick from the list. There is no single bass fishing lure perfect for every angler in every situation, but our top pick represents an excellent balance of value, functionality, price, and a little extra wow factor that could help you lock in the bass of your dreams.
Overall Price Range
There can be a large price for the best bass lures on the market, but for this review, we focused on lures that are between $5 and $20. The lowest-priced lures are usually simple and time-tested designs that don't have many bells and whistles. Generally, the simpler the lure, the less it costs to produce. More complex lures, like spinnerbaits and swimbaits, may have moving parts and many materials. That's why they're often more expensive. Whatever you do, don't assume that the most expensive lure in your tackle box is the right choice for all fishing conditions!
What We Reviewed
Rebel Pop R Triple Threat

Strike King Square Bill Crankbait

Strike King Finesse KVD Spinnerbait

Yamamoto Senko Bait

BiCO Original Jig Lead Free Bass Jigs

Lucky Craft Fishing Lure SW Surf Pointer

River2Sea Clackin' Crayfish 90

Heddon Sonar Lure's

Rapala Ultra Light Crank 3 Fishing Lure

Southern Lure SD1703 Scum Dog
[amazon box="B004MP6NWI"]
Features
Rebel's Pop-R Triple Threat pack is an excellent value for three of the topwater poppers designs on the market. This lure has long been a top choice of pro bass fishermen and was even revealed as a secret weapon of some top tournament winners in the fishing media.
Advantages
This kit comes with three popper colors: the Foxy Mama, Foxy Shad, and Foxy Lady. These three colors will have you covered in all light conditions and will work great with either slow or fast retrieves. This is a good choice for anglers interested in catching powerful bass with dramatic topwater strikes.
[amazon box="B00NAXKIVK"]
Features
Strike King designed this crankbait alongside Kevin VanDam, who is a Classic Champion of the BassMasters series. This is an ideal medium to deep water crank option, as the small lip gives the appearance of inconsistent movement while the lure is tracking on course. The smooth body and sleek design will help this lure slide through weedy cover with ease, and its specialized body construction has no audible rattle for fish.
Advantages
This is a versatile lure available in a wide range of colors and weights. It's made from ultra-durable components and will stand up for many seasons of hard use.
[amazon box="B00B9W6RZK"]
Features
The Strike King KVD Finesse Spinnerbait is another collaboration with bass champion Kevin VanDam. This is a versatile spinnerbait lure that's made to cover a lot of water in many fishing situations. Strike King accomplished this party by redesigning their proprietary Perfect Skirt and adding colors that will appear more natural to the eye of a bass.
Advantages
Like all KVD lures, the Finesse spinnerbait is crafted with high-grade blades, premium swivels, and an ultra-realistic head design. Kevin VanDam tested all of his KVD designs for Strike King personally to ensure that they are not only top quality but are also lethal on bass.
[amazon box="B00B5QBGY2″]
Features
The Yamamoto Senko has been one of the most popular and groundbreaking bass lures to hit the market in the last ten years. This is a simple, soft plastic lure that has a huge number of uses. And, when we say simple, we mean simple. This lure looks like most of the other rubber worms on the market, but it has a vastly higher fall rate its peers.
Advantages
Compared with other soft plastics, this design from Gary Yamamoto will produce a gentle, yet lifelike, side-to-side motion. Expect powerful strikes during both the fall and the retrieve.
[amazon box="B01LWTYFHL"]
Features
This jig offers an impressive 3/8 ounce total weight, and it's built not only to fight off weeds but also to last for years. With a classic stand-up design, the BiCO Original is the perfect jig to grab when you need something for low cover, swim jigging, or skipping under rocks and stumps. Premium-grade Owner hooks come standard with these jigs, and the Classic comes with their deep-throat, wide-gap model. This model has a deep claw shape for powerful hook sets.
Advantages
This jig stands out from the pack with its unique flattened head design. This offers several benefits including much better surface action. They are also made with no lead, giving the jig less weight and better surface area for improved skipping. The lead-free design of this lure also makes it a great choice for environmentally conscious anglers.
[amazon box="B01FZS3BPC"]
Features
Lucky Craft's Surf Pointer was crafted specifically as a multi-species killer for saltwater fishing. This lure sits within Lucky's California Inshore Fishing (CIF) range and offers ultra-realistic graphics for halibut and barracuda, as well as bass. If you're looking for a go anywhere, do anything jerkbait that is lethal at three to five feet of depth in saltwater, then this could be your perfect lure.
Advantages
This lure has a partly curved and semi-crescent body shape that makes it perfect for long range casting. Fast and slow retrieves will produce an unpredictable side-to-side travel that will not only catch the fish's attention but also bring them chasing quickly. The Surf Pointer comes with premium treble hooks that will ensure your trophy is locked with even a modest hook set.
[amazon box="B0788972GX"]
Features
The River2Sea Clackin' Crayfish takes a proven staple of the bass diet and brings it to life with an innovative design. This lure uses a proprietary hinged system in the back fin to produce a realistic swimming appearance on the retrieve.
Advantages
Since this is a large lure, it can be fished effectively in drops or skips, but also get worked like a job. What's often most effective, however, is to use this lure in proven crayfish habitat.
[amazon box="B007RUQ2PI"]
Features
Heddon's Sonar lures offer excellent versatility with three separate tie-in points for your line. Each tie-in will thrive in different depths with the first hole best in shallow conditions, the middle for jigging medium waters, and the third for trolling and deep water jigging.
Advantages
This lure is an excellent choice for targeting not only bass but also crappie, stripers, walleye, and northern pike.
[amazon box="B009BQS178″]
Features
Rapala's Ultra Light Crank 3 is a stealthy lure that's made to wobble and twist gently while diving and level out to make an enticing target during the retrieve. This lure will drop quickly to around eight feet and easily slings out long distances despite its diminutive size.
Advantages
The Ultra Light 3 crankbait from Rapala offers photo-realistic body scales and holographic eye beads to help close the deal on skittish bass.
[amazon box="B018RQVM28″]
Features
Southern Lure's Scum Dog is an ideal frog lure to add to any bass fishing arsenal. This lure is specifically designed to make the classic frog technique of "walking the dog" as easy as possible. The lure is available in a wide range of color patterns, so you can easily match your environment, cloud cover, or time of day.
Advantages
This frog lure maintains a realistic dog walking appearance regardless of fast or slow retrieves. Pauses, stops, and restarts also work well.
The Verdict
If you're planning to get serious about bass fishing, then you'll quickly learn that there is no perfect lure that will work every time. With that said, versatility is key. For that reason, our top choice from this list of bass fishing lures is the Yamamoto Senko soft plastic lure. These worm and leech imitations give a lifelike appearance both falling and during the retrieve. What's also great about these lures is that they can swap out with live bait if that's legal in your favorite fishing spot. The Yamamoto Senko is a simple, powerful, and effective tool that can help you crush trophy-grade bass without learning new techniques or spending a fortune.
Featured image from Amazon